Theo Langendam
'Round Lutheran Church Amsterdam(270)'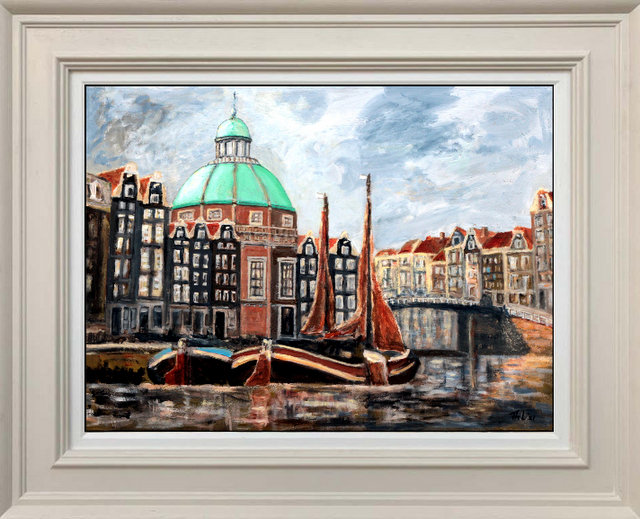 | 61x80 cm | 24x31,5 inch | acrylic paint on MDF 4 mm | 2021 | € 12.500
| shipping included | 7-day 100% money back guarantee |
Theo Langendam
'Notre-Dame Paris(180)'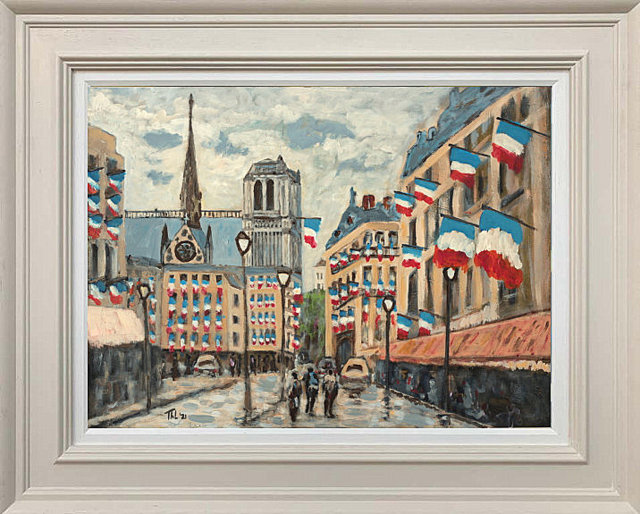 | 61x80 cm | 24x31,5 inch | acrylic paint on MDF 4 mm | 2021 | € 12.500
| shipping included | 7-day 100% money back guarantee |
Theo Langendam
'Vase de fleurs(38)'
| 70x80 cm | 27,5x31,5 inch | acrylic paint on MDF 4 mm | 2011 | € 13,650
| shipping included | 7-day 100% money back guarantee |
Theo Langendam
'Still life (44)'

| 46x60cm | 18,1x23,6 inch | acrylic paint on MDF 4 mm | 1983 | € 12,450
| shipping included | 7-day 100% money back guarantee |
Theo Langendam
'Notre-Dame Paris(267)'

| 61x80cm | 24x31,5 inch | acrylic paint on MDF 4 mm | 2021 | € 12.500
| shipping included | 7-day 100% money back guarantee |
Theo Langendam
'The Hague today(173)'

| 60x80 cm | 23,6x31,5 inch | acrylic paint on MDF 4 mm | 2019 | € 12,150
| shipping included | 7-day 100% money back guarantee |
Theo Langendam
'Solid Rock Of My Preservation (168) '

| 80x90 cm | 30,5x35,4 inch | acrylic paint on MDF 4 mm | 2018 | € 13,850
| shipping included | 7-day 100% money back guarantee |
Theo Langendam
'Composition Trees(169)'

| 80x90cm | 30,5x35,4 inch | acrylic paint on MDF 4 mm | € 13,850
| shipping included | 7-day 100% money back guarantee |
Theo Langendam
'Central Station(94)'

| 80x100cm | 31,5x39,4inch | acrylic paint on MDF 4 mm | 2014 | €3,000
| shipping included | 7-day 100% money back guarantee |
Theo Langendam
'Composition Trouts (25)'

| 80x120cm | 39,4x47,2 inch | acrylic paint on canvas | 2001 |€ 18,500
| shipping included | 7-day 100% money back guarantee |
Theo Langendam
' Still Life with tulips(46)'

| 100x110cm | 39,4x43,3 inch | acrylic paint on canvas | 2014 | €5,000
| shipping included | 7-day 100% money back guarantee |
Theo Langendam
'still life(96)'

|100x110cm|39,4x43,3inch| acrylic paint on canvas | 2011 | €5,000
| shipping included | 7-day 100% money back guarantee |
Theo Langendam
'Composition Trees(93)'

|80x120cm| 31,5x47,2inch | acrylic paint on MDF 4 mm | 2014 |
€ 15,500
| shipping included | 7-day 100% money back guarantee |
Theo Langendam
'La Rochepot (48)'

| 80x80cm | 39,4x39,4 inch | acrylic paint on canvas | 2010 | € 16,500
| shipping included | 7-day 100% money back guarantee |
Theo Langendam
'Composition Forest(92)'

|80x120cm|31,5x47,2 inch|acrylic paint on MDF 4 mm 2014| € 15,500
| shipping included | 7-day 100% money back guarantee |
Theo Langendam
' Flower Still Life(54)'

| 100x110cm | 39,4x43,3inch | acrylic paint on canvas | 2011 | € 15.000
| shipping included | 7-day 100% money back guarantee |
Theo Langendam
'Still Life with fruits(85)'

| 70x80cm | 27,6x31,5inch | acrylic paint on MDF 4 mm| 2013 | € 13,650
| shipping included | 7-day 100% money back guarantee |
Theo Langendam
'Anemones(56)'

| 80x100 cm | 31,5x39,4 inch | acrylic paint on canvas | 2010 | SOLD
| shipping included | 7-day 100% money back guarantee |
Theo Langendam
'Bouquet de fleurs(52)'

| 100x110cm | 39,4x43,3inch | acrylic paint on canvas | 2011 | € 15,000
| shipping included | 7-day 100% money back guarantee |
Theo Langendam
'Still Life with flowers(268)'

| 80x80cm | 31,5x31,5 inch | acrylic paint on canvas | € 5200
| shipping included | 7-day 100% money back guarantee |
Theo Langendam
'Composition(155)'

| 80x90cm | 30,5x35,4 inch | acrylic paint on MDF 4 mm | 2017 | € 5,850
| shipping included | 7-day 100% money back guarantee |
Theo Langendam
'Composition(170)'

| 60x68cm | 23,6x31,5 inch | acrylic paint on MDF 4mm | 2018 | € 12,150
| shipping included | 7-day 100% money back guarantee |
Theo Langendam
'Composition(154)'

| 80x90cm | 30,5x35,4 inch | acrylic paint on MDF 4 mm | 2017 | € 5,850
| shipping included | 7-day 100% money back guarantee |
Theo Langendam
'Forest(177)'

| 50x60cm | 19,7x23,6 inch | acrylic paint on MDF 4 mm |2014| € 6,500
| shipping included | 7-day 100% money back guarantee |
Theo Langendam
'Fruits and Lilacs(67)'

| 40x50cm | 15.7x19.7 inches | acrylic paint on MDF 4 mm | 2014 | € 3250
| shipping included | 7-day 100% money back guarantee |
Theo Langendam
'Chanteuse (82)'

|100x110cm|39,4x43,3 inch|acrylic paint on canvas|2013| €5,000
| shipping included | 7-day 100% money back guarantee |
Theo Langendam
'Nature morte (51)'

| 100x110cm | 39,4x43,3inch | acrylic paint on canvas | 2011 | €5,000
| shipping included | 7-day 100% money back guarantee |
Theo Langendam
'Vase de Fleurs(74)'

| 100x110cm | 39,4x43,3inch | acrylic paint on canvas | 2011 | €5,000
| shipping included | 7-day 100% money back guarantee |
Theo Langendam
'Still Life(24)'

| 100x110cm | 39,4x43,3 inch | acrylic paint on cavas | 2012 | €5,000
| shipping included | 7-day 100% money back guarantee |
Theo Langendam
'Still life with Poppies (178)'

| 40x50cm | 15,7x19,7 inch | acrylic paint on MDF 4 mm | 2012 | €3,250
| shipping included | 7-day 100% money back guarantee |
Theo Langendam
'Sailingboats(103)'

| 80x100 cm | 30,5x39,4 inch | acrylic paint on MDF 4 mm | 2015 | € 12,250
| shipping included | 7-day 100% money back guarantee |
Theo Langendam
'hydrangea (40)'

| 80x80 cm | 31,5 x 31,5 inch | acrylic paint on canvas | 2010 | € 16,500
| shipping included | 7-day 100% money back guarantee |
Theo Langendam
'Pommes vertes(39)'

| 30x40cm | 11,8x15,7 inch | acrylic paint on canvasboard | 1983 | €3,850
| shipping included | 7-day 100% money back guarantee |
Theo Langendam
'Still Life(104)'

| 50x60 cm | 19,7x23,6 inch | acrylic paint on MDF 4 mm | 2015 |€3,450
| shipping included | 7-day 100% money back guarantee |
Theo Langendam
' L'intérieur (101)'

| 80x100 cm | 31,5x39,4 inch | acrylic paint on MDF 4 mm | 2015 | € 13,000
| shipping included | 7-day 100% money back guarantee |
Theo Langendam
'Côtes du Rhône(131)'

| 80x90 cm | 30,5x35,4 inch | acrylic paint on MDF 4 mm | 2016 | €3,850
| shipping included | 7-day 100% money back guarantee |
Theo Langendam
' Still Life with soup-tureen(65)'

| 100x110cm | 39,4x43,3inch | acrylic paint on canvas | 2011 | € 15,000
| shipping included | 7-day 100% money back guarantee |
Theo Langendam
'Pommes jaunes (41)'

| 30x40 cm | 11,8x15,7 inch | acrylic paint on cardboard | 1984 | €3,850
| shipping included | 7-day 100% money back guarantee |
Theo Langendam
'Peaches (42)'

|30x40 cm| 11,8x15,7 inch | acrylic paint on canvas | 1985 | €3,850
| shipping included | 7-day 100% money back guarantee |
Theo Langendam
' Blooming Fruit Trees(176)'

| 60x80cm | 23,6x31,5 inch | acrylic paint on MDF 4 mm |2019 |€ 4,150
| shipping included | 7-day 100% money back guarantee |
Theo Langendam
'Peonies (47)'

| 80 x 100 cm | 31,5 x 39,4 inch | acrylic paint on canvas | 1998 | € 13,000
| shipping included | 7-day 100% money back guarantee |
Theo Langendam
'Composition(167)'

| 80x90cm | 30,5x35,4 inch | acrylic paint on MDF 4 mm | 2018 | € 12,850
PAINTED FRAME
| shipping included | 7-day 100% money back guarantee |
Theo Langendam
'Composition(156)'

| 80x90cm | 30,5x35,4 inch | acrylic paint on MDF 4 mm | 2017 | € 6,850
| shipping included | 7-day 100% money back guarantee |
Theo Langendam
'Composition(160)'

| 80x90 cm | 30,5x35,4 inch | acrylic paint on MDF 4 mm | 2017 | €2,850
| shipping included | 7-day 100% money back guarantee |
Theo Langendam
'Composition(88)'

| 40x50cm | 15,7x19,7inch | acrylic paint on MDF 4 mm | 2014 | €2,250
| shipping included | 7-day 100% money back guarantee |
Theo Langendam
'Composition(152)'

| 80x90cm | 30,5x35,4 inch | acrylic paint on MDF 4 mm | 2017 | €2,850
| shipping included | 7-day 100% money back guarantee |
Theo Langendam
'Composition(157)'

| 80x90cm | 30,5x35,4 inch | acrylic paint on MDF 4 mm | 2017 | €2,850
| shipping included | 7-day 100% money back guarantee |
Theo Langendam
'Composition(150)'

| 80x90 cm | 30,5x35,4 inch | acrylic paint on MDF 4 mm | 2016 | €2850
| shipping included | 7-day 100% money back guarantee |
Theo Langendam
'Composition(174)'

| 60x80 cm | 23,6x31,5 inch | acrylic paint on MDF 4 mm | 2019 | € 3,150
| shipping included | 7-day 100% money back guarantee |
Theo Langendam
'Composition(172)'

| 60x80cm | 23,6x31,5 inch | acrylic paint on MDF 4 mm | 2019 | SOLD
| shipping included | 7-day 100% money back guarantee |
Theo Langendam
'Composition(171)'

| 60x80cm | 23,6x31,5 inch | acrylic paint on MDF 4 mm | 2018 | € 4,150
| shipping included | 7-day 100% money back guarantee |
Theo Langendam
'Satisfaction Guarantee'

Satisfaction Guarantee
modern-art-sales.com 30-day 100% money back guarantee allows you to buy with confidence.
If for any reason you're not satisfied with your purchase, you can return it.
You will receive the Draft-Invoice by Email.
Payment options: IBAN/SEPA BIC/Swiftcode
Discuss price or make an offer
With or without picture frame
Price including shipping costs.
Supplied return labels.
Delivery including Picture Frame, 10-14 days Track and trace | DHL Parcel.
Shipping costs
Return Costs The Netherlands Standard Parcel € 245,25
Return Costs International Standard Parcel € 965,00
Return costs are not included, these wil be deducted from your refund payment.
| shipping included | 7-day 100% money back guarantee |
Theo Langendam
'Composition(161)'

| 80x90cm | 30.5x35.4 inch | acrylic paint on MDF 4 mm | 2017 | €3,850
| shipping included | 7-day 100% money back guarantee |
Theo Langendam
'Vase de fleurs(140)'

| 80x90 cm | 30,5x35,4 inch | acrylic paint on MDF 4 mm | 2016 | € 4,850
| shipping included | 7-day 100% money back guarantee |
Theo Langendam
'Composition(107)'

| 40x50 cm | 15,7x19,7 inch | acrylic paint on board | 2015 | € 3,250
| shipping included | 7-day 100% money back guarantee |
Theo Langendam
'Composition(90)'

| 80x100cm | 31,5x39,4inch | acrylic paint on MDF 4 mm | 2014 | € 6,500
| shipping included | 7-day 100% money back guarantee |
Theo Langendam
'Online Gallery'

| shipping included | 7-day 100% money back guarantee |
Theo Langendam
' Composition(143)'

| 80x90 cm | 30,5x35,4 inch | acrylic paint on MDF 4 mm | 2016 | € 5,850
| shipping included | 7-day 100% money back guarantee |
Theo Langendam
'Composition(119)'

| 80x90 cm | 30,5x35,4 inch | acrylic paint on MDF 4 mm | 2015 | € 5,850
| shipping included | 7-day 100% money back guarantee |
Theo Langendam
'Composition(125)'

| 80x90 cm | 30,5x35,4 inch | acrylic paint on MDF 4 mm | 2015 | € 7,850
| shipping included | 7-day 100% money back guarantee |
Theo Langendam
'Trois petits lapins(166)'

| 100x110cm | 39,4x43,3 inch | acrylic paint on canvas | 2012 | €5,000
| shipping included | 7-day 100% money back guarantee |
Theo Langendam
'Composition(162)'

| 80x90cm | 30,5x35,4 inch | acrylic paint on MDF 4 mm | 2017 | €2,850
| shipping included | 7-day 100% money back guarantee |
Theo Langendam
'Composition(165)'

| 80x90cm | 30,5x35,4 inch | acrylic paint on MDF 4 mm | 2017 | €2,850
| shipping included | 7-day 100% money back guarantee |
Theo Langendam
'Composition(164)'

| 80x90cm | 30,5x35,4 inch | acrylic paint on MDF 4 mm | 2017 | € 12.850
| shipping included | 7-day 100% money back guarantee |
Theo Langendam
'Composition(163)'

| 80x90cm | 30,5x35,4 inch | acrylic paint on MDF 4 mm | 2017 | € 12.850
| shipping included | 7-day 100% money back guarantee |
Theo Langendam
'Composition(153)'

| 80x90 cm | 30,5x35,4 inch | acrylic paint on MDF 4 mm | 2017 | €2,850
| shipping included | 7-day 100% money back guarantee |
Theo Langendam
'Composition(158)'

| 80x90 cm | 30,5x35,4 inch | acrylic paint on MDF 4 mm | 2017 | €2,850
| shipping included | 7-day 100% money back guarantee |
Theo Langendam
'Composition(151)'

| 80x90cm | 30,5x35,4 inch | acrylic paint on MDF 4 mm | 2016 | €2,850
| shipping included | 7-day 100% money back guarantee |
Theo Langendam
'Composition(149)'

| 80x90 cm | 30,5x35,4 inch | acrylic paint on MDF 4 mm | 2016 | €2,850
| shipping included | 7-day 100% money back guarantee |
Theo Langendam
'Composition(148)'

| 80x90 cm | 30,5x35,4 inch | acrylic paint on MDF 4 mm | 2016 | €2,850
| shipping included | 7-day 100% money back guarantee |
Theo Langendam
'Composition(147)'

| 80x90 cm | 30,5x35,4 inch | acrylic paint on MDF 4 mm | 2016 | €2,850
| shipping included | 7-day 100% money back guarantee |
Theo Langendam
'Composition(146)'

| 80x90 cm | 30,5x35,4 inch | acrylic paint on MDF 4 mm | 2016 | €2,850
| shipping included | 7-day 100% money back guarantee |
Theo Langendam
'Composition(145)'

| 80x90 cm | 30,5x35,4 inch | acrylic paint on MDF 4 mm | 2016 | €2,850
| shipping included | 7-day 100% money back guarantee |
Theo Langendam
'Composition(139)'

| 80x90 cm | 30,5x35,4 inch | acrylic paint on MDF 4 mm | 2016 | € 8,850
| shipping included | 7-day 100% money back guarantee |
Theo Langendam
'Composition(138)'

| 80x90 cm | 30,5x35,4 inch | acrylic paint on MDF 4 mm | 2016 | €2,850
| shipping included | 7-day 100% money back guarantee |
Theo Langendam
'Composition(137)'

| 80x90cm | 30,5x35,4 inch | acrylic paint on MDF 4 mm | 2016 | €2,850
| shipping included | 7-day 100% money back guarantee |
Theo Langendam
'Composition(136)'

| 80x90cm | 30,5x35,4 inch | acrylic paint on MDF 4 mm | 2016 | €2,850
| shipping included | 7-day 100% money back guarantee |
Theo Langendam
'Composition(135)'

| 80x90 cm | 30,5x35,4 inch | acrylic paint on MDF 4 mm | 2016 | €2,850
| shipping included | 7-day 100% money back guarantee |
Theo Langendam
'Composition(134)'

| 80x90 cm | 30,5x35,4 inch | acrylic paint on MDF 4 mm | 2016 | €2,850
| shipping included | 7-day 100% money back guarantee |
Theo Langendam
'Composition(133)'

| 80x90 cm | 30,5x35,4 inch | acrylic paint on MDF 4 mm | 2016 |€2,850
| shipping included | 7-day 100% money back guarantee |
Theo Langendam
'Composition(132)'

| 80x90 cm | 30,5x35,4 inch | acrylic paint on MDF 4 mm | 2016 | €2,850
| shipping included | 7-day 100% money back guarantee |
Theo Langendam
'modern art sales.com'

| shipping included | 7-day 100% money back guarantee |
Theo Langendam
'Paysage(130)'

| 80x90 cm | 30,5x35,4 inch | acrylic paint on MDF 4 mm | 2016 | €2,850
| shipping included | 7-day 100% money back guarantee |
Theo Langendam
'mer du Nord(129)'

| 80x90 cm | 30,5x35,4 inch | acrylic paint on MDF 4 mm | 2016 | €2,850
| shipping included | 7-day 100% money back guarantee |
Theo Langendam
'Composition(124)'

| 80x90 cm | 30,5x35,4 inch | acrylic paint on MDF 4 mm | 2015 | €2,850
| shipping included | 7-day 100% money back guarantee |
Theo Langendam
'Composition(122)'

| 80x90 cm | 30,5x35,4 inch | acrylic paint on MDF 4 mm | 2015 | €2,850
| shipping included | 7-day 100% money back guarantee |
Theo Langendam
'Composition(121)'

| 80x90 cm | 30,5x35,4 inch | acrylic paint on MDF 4 mm | 2015 | €2,850
| shipping included | 7-day 100% money back guarantee |
Theo Langendam
'Compsition(120)'

| 80x90 cm | 30,5x35,4 inch | acrylic paint on MDF 4 mm | 2016 | €2,850
| shipping included | 7-day 100% money back guarantee |
Theo Langendam
'Composition(118)'

| 80x90 cm | 30,5x35,4 inch | acrylic paint on MDF 4 mm | 2014 |€2,850
| shipping included | 7-day 100% money back guarantee |
Theo Langendam
'Composition(115)'

| 80x90cm | 30,5x35,4inch | acrylic paint on MDF 4 mm | 2016 | €2,850
| shipping included | 7-day 100% money back guarantee |
Theo Langendam
'Composition(114)'

| 80x90 cm | 30,5x35,4 inch | acrylic paint on MDF 4 mm | 2014 |€2,850
| shipping included | 7-day 100% money back guarantee |
Theo Langendam
'Composition(126)'

| 100x120 cm | 39,4x47,2 inch | acrylic paint on MDF 4 mm | 2015 | €6,500
| shipping included | 7-day 100% money back guarantee |
Theo Langendam
'Composition(128)'

| 100x120 cm |39,4x47,2 inch | acrylic paint on MDF 4 mm | 2016 | €6,500
| shipping included | 7-day 100% money back guarantee |
Theo Langendam
'La côte d'azur (78)'

| 100x110cm | 39,4x43,3inch | acrylic paint on canvas | 1999 | SOLD
| shipping included | 7-day 100% money back guarantee |
Theo Langendam
'Still Life(80)'

| 52,5x101,5cm | 20,5x39,6 | acrylic paint on canvas | 2011 | SOLD
| shipping included | 7-day 100% money back guarantee |
Theo Langendam
'nature morte(58)'

| 70x80cm | 27,5x31,5 inch | acrylic paint on canvas | SOLD |
| shipping included | 7-day 100% money back guarantee |
Theo Langendam
'Still life with flowers (66)'

| 100x110cm | 39,4x43,3 inch | acrylic paint on canvas | SOLD |
| shipping included | 7-day 100% money back guarantee |
Theo Langendam
'Composition(112)'

| 35x45 cm | 13,77x17,71 inch | watercolour | paper | 2013 |SOLD
| shipping included | 7-day 100% money back guarantee |
Theo Langendam
'Composition(111)'

|13x14 cm| 5,11x5,51 inch |watercolour/charcoal on paper |2013|SOLD
| shipping included | 7-day 100% money back guarantee |
Theo Langendam
'Composition(109)'

| 80x100 cm | 30,5x39,4 inch | acrylic paint on MDF 4 mm | 2015 | €3,000
| shipping included | 7-day 100% money back guarantee |
Theo Langendam
'Composition(108)'

| 80x100 cm | 30,5x39,4 inch | acrylic paint on MDF 4 mm | 2015 | € 8,500
| shipping included | 7-day 100% money back guarantee |
Theo Langendam
'Composition(105)'

| 80x100 cm | 30,5x39,4 inch | acrylic paint on MDF 4 mm | 2015 |€ 12.500
| shipping included | 7-day 100% money back guarantee |
Theo Langendam
'Composition(100)'

| 80x100 cm | 31,5x39,4 inch | acrylic paint on MDF 4 mm | 2014 |
€ 13,500
| shipping included | 7-day 100% money back guarantee |
Theo Langendam
'Composition(99)'

| 100x120 cm | 39,4x47,2 inch |acrylic paint on board | 2014 | € 16,500
| shipping included | 7-day 100% money back guarantee |
Theo Langendam
'Composition(127)'

| 100x110cm | 39,4x43,3 inch | acrylic paint on canvas | 2014 | €5,000
| shipping included | 7-day 100% money back guarantee |
Theo Langendam
'Composition Trees(110)'

| 80x120 cm | 31,5x47,2 inch | acrylic paint on MDF 4 mm | 2015 | € 15,500
| shipping included | 7-day 100% money back guarantee |
Theo Langendam
'Composition(98)'

| 100x120 cm | 39,4x47,2 inch | acrylic paint on MDF 4 mm | 2014 | €6,500
| shipping included | 7-day 100% money back guarantee |
Theo Langendam
'modern art sales.nl'

| shipping included | 7-day 100% money back guarantee |
Theo Langendam
'Composition(91)'

| 80x100cm | 31,5x39,4inch | acrylic paint on MDF 4 mm | 2014 | €3,000
| shipping included | 7-day 100% money back guarantee |
Theo Langendam
'femmes Tibétaines(97)'

| 100x110cm | 39,4x43,3inch | acrylic paint on canvas | 2014 | €5,000
| shipping included | 7-day 100% money back guarantee |
Theo Langendam
'Table by the window(106)'

| 100x110 cm |39,4x43,3 inch | acrylic paint on canvas | 2014 | €5,000
| shipping included | 7-day 100% money back guarantee |
Theo Langendam
'Composition(95)'

| 80x100cm | 31,5x39,4 inch | acrylic paint on MDF 4 mm | 2014 | €3,000
| shipping included | 7-day 100% money back guarantee |
Theo Langendam
'Vase de fleurs(86)'

| 70x80cm | 27,5x31,5inch | acrylic paint onMDF 4 mm | 2014 | €2,650
| shipping included | 7-day 100% money back guarantee |
Theo Langendam
'Composition (32)'

| 100x110 cm | 39,4x43,3 inch |acrylic paint on canvas | 2011 | SOLD
| shipping included | 7-day 100% money back guarantee |
Theo Langendam
'Composition(89)'

| 80x120cm | 31,5x47,2inch | acrylic paint on MDF 4 mm | 2014 | €5,500
| shipping included | 7-day 100% money back guarantee |
Theo Langendam
'nature morte(87)'

| 70x80cm | 27,6x31,5inch | acrylic paint on MDF 4 mm | 2014 | €2,650
| shipping included | 7-day 100% money back guarantee |
Theo Langendam
'Composition(31)'

| 100x110cm | 39,3x43,4inch | acrylic paint on canvas | 2012| SOLD
| shipping included | 7-day 100% money back guarantee |
Theo Langendam
'Still Life(84)'

| 100x110cm | 39,4x43,3 inch | acrylic paint on canvas | 2013 | €5,000
| shipping included | 7-day 100% money back guarantee |
Theo Langendam
'Vase de Fleurs (83)'

| 100x110cm | 39,4x43,3inch | acrylic paint on canvas | 2012 | €5,000
| shipping included | 7-day 100% money back guarantee |
Theo Langendam
'Vase de Fleurs (76)'

| 100x110cm | 39,4x43,3inch | acrylic paint on canvas | 2013 | SOLD
| shipping included | 7-day 100% money back guarantee |
Theo Langendam
'Au bord de la mer (70)'

| 100x110cm | 39,4x43,3 inch | acrylic paint on canvas | 2011 | SOLD
| shipping included | 7-day 100% money back guarantee |
Theo Langendam
'Village de pêcheurs(71)'

| 100x110cm | 39,4x43,3 inch | acrylic paint on canvas | 2011 | SOLD
| shipping included | 7-day 100% money back guarantee |
Theo Langendam
'Untitled (75)'

| 100x110cm | 39,4x43,3 inch | acrylic paint on canvas | 2011 | €5,000
| shipping included | 7-day 100% money back guarantee |
Theo Langendam
'Bienfaisance (72)'

| 100x110cm | 39,4x43,3inch | acrylic paint on canvas | 2013 | €5,000
| shipping included | 7-day 100% money back guarantee |
Theo Langendam
'Still Life with flowers(43)'

| 100x110cm | 39,4x43,3inch | acrylic paint on canvas | 2011 | €5,000
| shipping included | 7-day 100% money back guarantee |
Theo Langendam
'untitled (69)'

| 100x110cm | 39,4x43,4 inch | acrylic paint on canvas | 2011 | SOLD
| shipping included | 7-day 100% money back guarantee |
Theo Langendam
'Le champ de fleurs (35)'

| 100x110 cm | 39,4x43,3 inch | acrylic paint on canvas | 2011 | SOLD
| shipping included | 7-day 100% money back guarantee |
Theo Langendam
'Roses (49)'

| 100x110cm | 39,4x43,3 inch | acrylic paint on canvas | 2010 | SOLD
| shipping included | 7-day 100% money back guarantee |
Theo Langendam
'Summertime(53)'

| 80x90cm | 31,2x35,1 inch | acrylic paint on canvas | 2011 | €2850
| shipping included | 7-day 100% money back guarantee |
Theo Langendam
'saison d'été (62)'

| 100x110 cm | 39,3x43,4 inch | acrylic paint on canvas | 2011 |SOLD
| shipping included | 7-day 100% money back guarantee |
Theo Langendam
'Landscape (33)'

|100x110 cm|39,4x43,3 inch| acrylic paint on canvas | 2010 |SOLD
| shipping included | 7-day 100% money back guarantee |
Theo Langendam
' Still Life(50)'

| 50x60 cm | 19,7x23,6 inch | acrylic paint on canvas | 2011 |SOLD
| shipping included | 7-day 100% money back guarantee |
Theo Langendam
'landscape (27)'

|100x110 cm|39,4x43,3inch| acrylic paint on canvas | 2010 | SOLD
| shipping included | 7-day 100% money back guarantee |
Theo Langendam
'Still Life (34)'

|100x110cm|39,4x43,3inch| acrylic paint on canvas | 2010 | SOLD
| shipping included | 7-day 100% money back guarantee |
Theo Langendam
'Still Life with flowers (30)'

| 100x110 cm | 39,4x43,3 inch | acrylic paint on canvas | 2010 |SOLD
| shipping included | 7-day 100% money back guarantee |
Theo Langendam
'modern-art-sales.com'

| shipping included | 7-day 100% money back guarantee |
Theo Langendam
'Still Life with flowers (29)'

| 100x110cm | 39,4x43,3 inch | acrylic paint on canvas | 2011 | SOLD
| shipping included | 7-day 100% money back guarantee |
Theo Langendam
'Still Life (26)'

| 100x110cm | 39,4x43,3 inch | acrylic paint on canvas | 2011|SOLD
| shipping included | 7-day 100% money back guarantee |
Theo Langendam
'Sunflowers (28)'

| 100x110 cm | 39,4x43,3 inch | acrylic paint on canvas | 2011 |SOLD
| shipping included | 7-day 100% money back guarantee |
Theo Langendam
'Book Compositions 2011-2017'

| Book Compositions | 30x30cm | 50 pages | hard cover | € 98
| shipping included | 7-day 100% money back guarantee |
Theo Langendam
' Still Life(45)'

| 80x100cm | 31,5x39,4 inch | acrylic paint on canvas | 2014 | €3,000 | SOLD
| shipping included | 7-day 100% money back guarantee |