Theo Langendam
'Still Life (372)'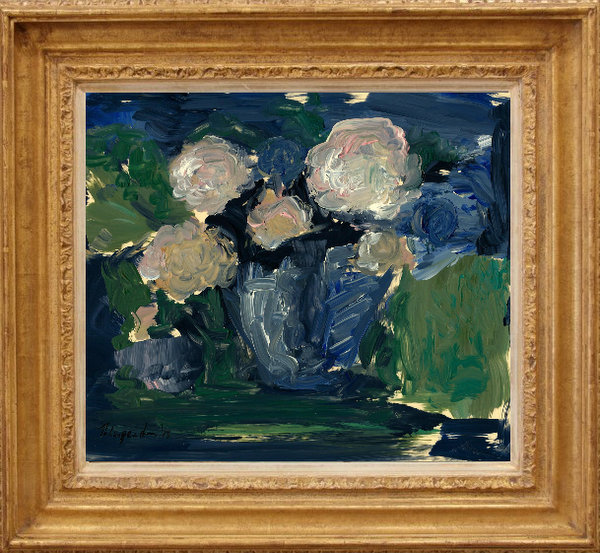 | 40x50 cm | 15,7x19,7 inch | acrylic paint on MDF 4mm | 2013 | sold |
Contact My Offer Artist English Nederlands
| Price includes picture frame and Shipping Costs |1 year Trade-in Guarantee |
Theo Langendam
'Still Life with fruits(85)'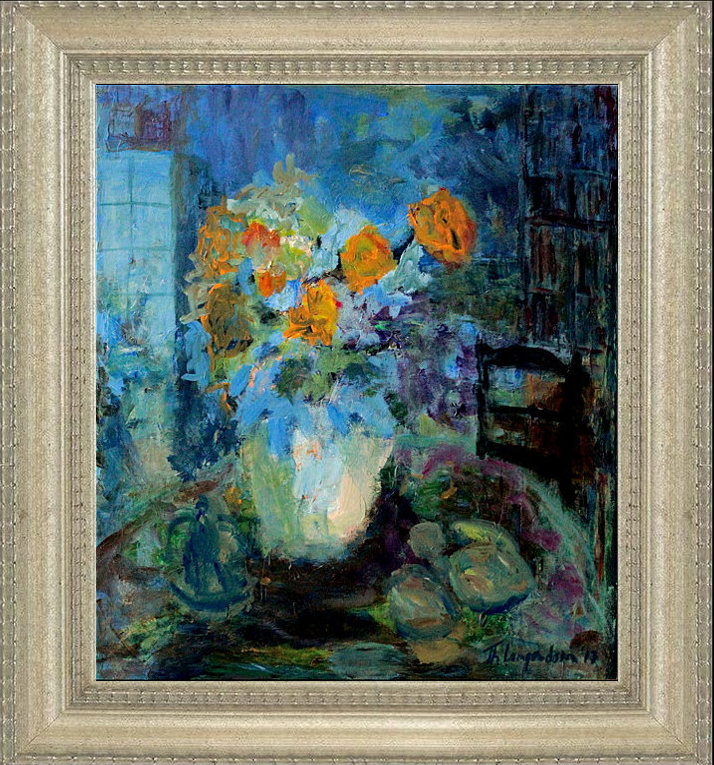 | 70x80cm | 27,6x31,5inch | acrylic paint on MDF 4 mm| 2013 | € 13,650
Contact My Offer Artist English Nederlands
| Price includes picture frame and Shipping Costs |1 year Trade-in Guarantee |
Theo Langendam
'Notre-Dame Paris(180)'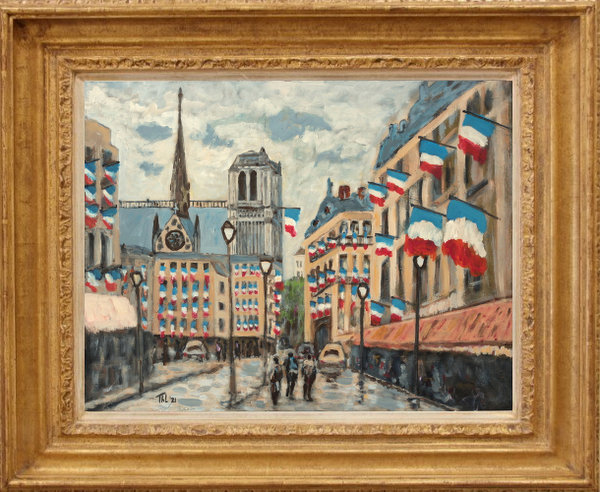 | 61x80 cm | 24x31,5 inch | acrylic paint on MDF 4 mm | 2021 | € 7.250
Contact My Offer Artist English Nederlands
| Price includes picture frame and Shipping Costs |1 year Trade-in Guarantee |
Theo Langendam
'Pommes vertes(39)'

| 30x40cm | 11,8x15,7 inch | oil paint on canvasboard | 1983 | €3,850
Contact My Offer Artist English Nederlands
| Price includes picture frame and Shipping Costs |1 year Trade-in Guarantee |
Theo Langendam
'Round Lutheran Church Amsterdam(270)'

| 61x80 cm | 24x31,5 inch | acrylic paint on MDF 4 mm | 2021 | € 7.250
Contact My Offer Artist English Nederlands
| Price includes picture frame and Shipping Costs |1 year Trade-in Guarantee |
Theo Langendam
'Notre-Dame Paris(267)'

| 61x80cm | 24x31,5 inch | acrylic paint on MDF 4 mm | 2021 | € 5.475
Contact My Offer Artist English Nederlands
| Price includes picture frame and Shipping Costs |1 year Trade-in Guarantee |
Theo Langendam
'Still Life(104)'

| 50x60 cm | 19,7x23,6 inch | acrylic paint on MDF 4 mm | 2015 |€3,450
Contact My Offer Artist English Nederlands
| Price includes picture frame and Shipping Costs |1 year Trade-in Guarantee |
Theo Langendam
'Solid Rock Of My Preservation (168) '

| 80x90 cm | 30,5x35,4 inch | acrylic paint on MDF 4 mm | 2018 | € 8.385
painted frame
Contact My Offer Artist English Nederlands
| Price includes picture frame and Shipping Costs |1 year Trade-in Guarantee |
Theo Langendam
'Peaches (42)'

|30x40 cm| 11,8x15,7 inch | oil paint on canvas | 1985 | €3,850
Contact My Offer Artist English Nederlands
| Price includes picture frame and Shipping Costs |1 year Trade-in Guarantee |
Theo Langendam
'Chrysanthemums(374)'

| 30x40 cm | 11,8x15,7 inch | watercolor on paper | 1980 |
Contact My Offer Artist English Nederlands
| Price includes picture frame and Shipping Costs |1 year Trade-in Guarantee |
Theo Langendam
'The Hague today(173)'

| 60x80 cm | 23,6x31,5 inch | acrylic paint on MDF 4 mm | 2019 | € 6.250
Contact My Offer Artist English Nederlands
| Price includes picture frame and Shipping Costs |1 year Trade-in Guarantee |
Theo Langendam
'Flying Swans(375)'

| 50x70 cm | 19,7x27,5 inch | oil paint on canvas | 1980 |
Contact My Offer Artist English Nederlands
| Price includes picture frame and Shipping Costs |1 year Trade-in Guarantee |
Theo Langendam
'Vase de fleurs(38)'

| 70x80 cm | 27,5x31,5 inch | acrylic paint on MDF 4 mm | 2011 | € 8.365
Contact My Offer Artist English Nederlands
| Price includes picture frame and Shipping Costs |1 year Trade-in Guarantee |
Theo Langendam
'Still life (44)'

| 46x60cm | 18,1x23,6 inch | acrylic paint on canvas board | 1984 | € 8.245
Contact My Offer Artist English Nederlands
| Price includes picture frame and Shipping Costs |1 year Trade-in Guarantee |
Theo Langendam
'Jazz Festival (271)'

| 60x80 cm | 23,6x31,5 inch | acrylic paint on Canvas | 1983 | €4.500
Contact My Offer Artist English Nederlands
| Price includes picture frame and Shipping Costs |1 year Trade-in Guarantee |
Theo Langendam
'Arbre de la vie(169)'

| 80x90cm | 30,5x35,4 inch | acrylic paint on MDF 4 mm | 2018 |€ 9.385
painted frame
Contact My Offer Artist English Nederlands
| Price includes picture frame and Shipping Costs |1 year Trade-in Guarantee |
Theo Langendam
'Central Station(94)'

| 80x100cm | 31,5x39,4inch | acrylic paint on MDF 4 mm | 2014 | € 8,000
Contact My Offer Artist English Nederlands
| Price includes picture frame and Shipping Costs |1 year Trade-in Guarantee |
Theo Langendam
'Composition Trouts (25)'

| 80x120cm | 39,4x47,2 inch | acrylic paint on canvas | 2001 |€ 8,500
Contact My Offer Artist English Nederlands
| Price includes picture frame and Shipping Costs |1 year Trade-in Guarantee |
Theo Langendam
' Still Life with tulips(46)'

| 100x110cm | 39,4x43,3 inch | acrylic paint on canvas | 2014 | € 5,000
Contact My Offer Artist English Nederlands
| Price includes picture frame and Shipping Costs |1 year Trade-in Guarantee |
Theo Langendam
'still life(96)'

|100x110cm|39,4x43,3inch| acrylic paint on canvas | 2011 | € 5,000
Contact My Offer Artist English Nederlands
| Price includes picture frame and Shipping Costs |1 year Trade-in Guarantee |
Theo Langendam
'Composition Trees(93)'

|80x120cm| 31,5x47,2inch | acrylic paint on MDF 4 mm | 2014 |
€ 9.550
Contact My Offer Artist English Nederlands
| Price includes picture frame and Shipping Costs |1 year Trade-in Guarantee |
Theo Langendam
'La Rochepot (48)'

| 80x80cm | 39,4x39,4 inch | acrylic paint on canvas | 2010 | € 9,500
Contact My Offer Artist English Nederlands
| Price includes picture frame and Shipping Costs |1 year Trade-in Guarantee |
Theo Langendam
'Composition Forest(92)'

|80x120cm|31,5x47,2 inch|acrylic paint on MDF 4 mm 2014| € 15,500
Contact My Offer Artist English Nederlands
| Price includes picture frame and Shipping Costs |1 year Trade-in Guarantee |
Theo Langendam
' Flower Still Life(54)'

| 100x110cm | 39,4x43,3inch | acrylic paint on canvas | 2011 | € 15.000
Contact My Offer Artist English Nederlands
| Price includes picture frame and Shipping Costs |1 year Trade-in Guarantee |
Theo Langendam
'Anemones(56)'

| 80x100 cm | 31,5x39,4 inch | acrylic paint on canvas | 2010 | SOLD
Contact My Offer Artist English Nederlands
| Price includes picture frame and Shipping Costs |1 year Trade-in Guarantee |
Theo Langendam
'Bouquet de fleurs(52)'

| 100x110cm | 39,4x43,3inch | acrylic paint on canvas | 2011 | € 15,000
Contact My Offer Artist English Nederlands
| Price includes picture frame and Shipping Costs |1 year Trade-in Guarantee |
Theo Langendam
'Still Life with flowers(268)'

| 80x80cm | 31,5x31,5 inch | acrylic paint on canvas | € 5200
Contact My Offer Artist English Nederlands
| Price includes picture frame and Shipping Costs |1 year Trade-in Guarantee |
Theo Langendam
'Composition(155)'

| 80x90cm | 30,5x35,4 inch | acrylic paint on MDF 4 mm | 2017 | € 5,850
Contact My Offer Artist English Nederlands
| Price includes picture frame and Shipping Costs |1 year Trade-in Guarantee |
Theo Langendam
'Composition(170)'

| 60x68cm | 23,6x31,5 inch | acrylic paint on MDF 4mm | 2018 | € 12,150
Contact My Offer Artist English Nederlands
| Price includes picture frame and Shipping Costs |1 year Trade-in Guarantee |
Theo Langendam
'Composition(154)'

| 80x90cm | 30,5x35,4 inch | acrylic paint on MDF 4 mm | 2017 | € 5,850
Contact My Offer Artist English Nederlands
| Price includes picture frame and Shipping Costs |1 year Trade-in Guarantee |
Theo Langendam
'Forest(177)'

| 50x60cm | 19,7x23,6 inch | acrylic paint on MDF 4 mm |2014| € 6,500
Contact My Offer Artist English Nederlands
| Price includes picture frame and Shipping Costs |1 year Trade-in Guarantee |
Theo Langendam
'Fruits and Lilacs(67)'

| 40x50cm | 15.7x19.7 inches | acrylic paint on MDF 4 mm | 2014 | € 3250
Contact My Offer Artist English Nederlands
| Price includes picture frame and Shipping Costs |1 year Trade-in Guarantee |
Theo Langendam
'Chanteuse (82)'

|100x110cm|39,4x43,3 inch|acrylic paint on canvas|2013| € 5,000
Contact My Offer Artist English Nederlands
| Price includes picture frame and Shipping Costs |1 year Trade-in Guarantee |
Theo Langendam
'Nature morte (51)'

| 100x110cm | 39,4x43,3inch | acrylic paint on canvas | 2011 | €5,000
Contact My Offer Artist English Nederlands
| Price includes picture frame and Shipping Costs |1 year Trade-in Guarantee |
Theo Langendam
'Vase de Fleurs(74)'

| 100x110cm | 39,4x43,3inch | acrylic paint on canvas | 2011 | €5,000
Contact My Offer Artist English Nederlands
| Price includes picture frame and Shipping Costs |1 year Trade-in Guarantee |
Theo Langendam
'Still Life(24)'

| 100x110cm | 39,4x43,3 inch | acrylic paint on cavas | 2012 | €5,000
Contact My Offer Artist English Nederlands
| Price includes picture frame and Shipping Costs |1 year Trade-in Guarantee |
Theo Langendam
'Still life with Poppies (178)'

| 40x50cm | 15,7x19,7 inch | acrylic paint on MDF 4 mm | 2012 | €3,250
Contact My Offer Artist English Nederlands
| Price includes picture frame and Shipping Costs |1 year Trade-in Guarantee |
Theo Langendam
'Sailingboats(103)'

| 80x100 cm | 30,5x39,4 inch | acrylic paint on MDF 4 mm | 2015 | € 12,250
Contact My Offer Artist English Nederlands
| Price includes picture frame and Shipping Costs |1 year Trade-in Guarantee |
Theo Langendam
'hydrangea (40)'

| 80x80 cm | 31,5 x 31,5 inch | acrylic paint on canvas | 2010 | € 16,500
Contact My Offer Artist English Nederlands
| Price includes picture frame and Shipping Costs |1 year Trade-in Guarantee |
Theo Langendam
' L'intérieur (101)'

| 80x100 cm | 31,5x39,4 inch | acrylic paint on MDF 4 mm | 2015 | € 13,000
Contact My Offer Artist English Nederlands
| Price includes picture frame and Shipping Costs |1 year Trade-in Guarantee |
Theo Langendam
'Côtes du Rhône(131)'

| 80x90 cm | 30,5x35,4 inch | acrylic paint on MDF 4 mm | 2016 | €3,850
Contact My Offer Artist English Nederlands
| Price includes picture frame and Shipping Costs |1 year Trade-in Guarantee |
Theo Langendam
' Still Life with soup-tureen(65)'

| 100x110cm | 39,4x43,3inch | acrylic paint on canvas | 2011 | € 15,000
Contact My Offer Artist English Nederlands
| Price includes picture frame and Shipping Costs |1 year Trade-in Guarantee |
Theo Langendam
'Pommes jaunes (41)'

| 30x40 cm | 11,8x15,7 inch | acrylic paint on cardboard | 1984 | €3,850
Contact My Offer Artist English Nederlands
| Price includes picture frame and Shipping Costs |1 year Trade-in Guarantee |
Theo Langendam
' Blooming Fruit Trees(176)'

| 60x80cm | 23,6x31,5 inch | acrylic paint on MDF 4 mm |2019 |€ 4,150
Contact My Offer Artist English Nederlands
| Price includes picture frame and Shipping Costs |1 year Trade-in Guarantee |
Theo Langendam
'Peonies (47)'

| 80 x 100 cm | 31,5 x 39,4 inch | acrylic paint on canvas | 1998 | € 13,000
Contact My Offer Artist English Nederlands
| Price includes picture frame and Shipping Costs |1 year Trade-in Guarantee |
Theo Langendam
'Composition(167)'

| 80x90cm | 30,5x35,4 inch | acrylic paint on MDF 4 mm | 2018 | € 12,850
PAINTED FRAME
Contact My Offer Artist English Nederlands
| Price includes picture frame and Shipping Costs |1 year Trade-in Guarantee |
Theo Langendam
'Composition(156)'

| 80x90cm | 30,5x35,4 inch | acrylic paint on MDF 4 mm | 2017 | € 6,850
Contact My Offer Artist English Nederlands
| Price includes picture frame and Shipping Costs |1 year Trade-in Guarantee |
Theo Langendam
'Composition(160)'

| 80x90 cm | 30,5x35,4 inch | acrylic paint on MDF 4 mm | 2017 | €2,850
Contact My Offer Artist English Nederlands
| Price includes picture frame and Shipping Costs |1 year Trade-in Guarantee |
Theo Langendam
'Composition(88)'

| 40x50cm | 15,7x19,7inch | acrylic paint on MDF 4 mm | 2014 | €2,250
Contact My Offer Artist English Nederlands
| Price includes picture frame and Shipping Costs |1 year Trade-in Guarantee |
Theo Langendam
'Composition(152)'

| 80x90cm | 30,5x35,4 inch | acrylic paint on MDF 4 mm | 2017 | €2,850
Contact My Offer Artist English Nederlands
| Price includes picture frame and Shipping Costs |1 year Trade-in Guarantee |
Theo Langendam
'Composition(157)'

| 80x90cm | 30,5x35,4 inch | acrylic paint on MDF 4 mm | 2017 | €2,850
Contact My Offer Artist English Nederlands
| Price includes picture frame and Shipping Costs |1 year Trade-in Guarantee |
Theo Langendam
'Composition(150)'

| 80x90 cm | 30,5x35,4 inch | acrylic paint on MDF 4 mm | 2016 | €2850
Contact My Offer Artist English Nederlands
| Price includes picture frame and Shipping Costs |1 year Trade-in Guarantee |
Theo Langendam
'Composition(174)'

| 60x80 cm | 23,6x31,5 inch | acrylic paint on MDF 4 mm | 2019 | € 3,150
Contact My Offer Artist English Nederlands
| Price includes picture frame and Shipping Costs |1 year Trade-in Guarantee |
Theo Langendam
'Composition(171)'

| 60x80cm | 23,6x31,5 inch | acrylic paint on MDF 4 mm | 2018 | € 4,150
Contact My Offer Artist English Nederlands
| Price includes picture frame and Shipping Costs |1 year Trade-in Guarantee |
Theo Langendam
'Modern-art-sales.com Trade-in Guarantee.'

Modern-art-sales.com Trade-in Guarantee.
During one year after your purchase it is possible to exchange purchased items for similar other items against payment of any additional costs.
Make an offer and You will receive the Draft-Invoice with image for signature by Email.
Payment options: IBAN/SEPA BIC/Swiftcode.
Price includes picture frame and shipping costs.
Delivery 10-24 days Track and trace | DHL Parcel.
Contact My Offer Artist English Nederlands
| Price includes picture frame and Shipping Costs |1 year Trade-in Guarantee |
Theo Langendam
'Composition(161)'

| 80x90cm | 30.5x35.4 inch | acrylic paint on MDF 4 mm | 2017 | €3,850
Contact My Offer Artist English Nederlands
| Price includes picture frame and Shipping Costs |1 year Trade-in Guarantee |
Theo Langendam
'Vase de fleurs(140)'

| 80x90 cm | 30,5x35,4 inch | acrylic paint on MDF 4 mm | 2016 | € 4,850
Contact My Offer Artist English Nederlands
| Price includes picture frame and Shipping Costs |1 year Trade-in Guarantee |
Theo Langendam
'Composition(107)'

| 40x50 cm | 15,7x19,7 inch | acrylic paint on board | 2015 | € 3,250
Contact My Offer Artist English Nederlands
| Price includes picture frame and Shipping Costs |1 year Trade-in Guarantee |
Theo Langendam
'Composition(90)'

| 80x100cm | 31,5x39,4inch | acrylic paint on MDF 4 mm | 2014 | € 6,500
Contact My Offer Artist English Nederlands
| Price includes picture frame and Shipping Costs |1 year Trade-in Guarantee |
Theo Langendam
'Online Gallery'

Contact My Offer Artist English Nederlands
| Price includes picture frame and Shipping Costs |1 year Trade-in Guarantee |
Theo Langendam
' Composition(143)'

| 80x90 cm | 30,5x35,4 inch | acrylic paint on MDF 4 mm | 2016 | € 5,850
Contact My Offer Artist English Nederlands
| Price includes picture frame and Shipping Costs |1 year Trade-in Guarantee |
Theo Langendam
'Composition(119)'

| 80x90 cm | 30,5x35,4 inch | acrylic paint on MDF 4 mm | 2015 | € 5,850
Contact My Offer Artist English Nederlands
| Price includes picture frame and Shipping Costs |1 year Trade-in Guarantee |
Theo Langendam
'Composition(125)'

| 80x90 cm | 30,5x35,4 inch | acrylic paint on MDF 4 mm | 2015 | € 7,850
Contact My Offer Artist English Nederlands
| Price includes picture frame and Shipping Costs |1 year Trade-in Guarantee |
Theo Langendam
'Trois petits lapins(166)'

| 100x110cm | 39,4x43,3 inch | acrylic paint on canvas | 2012 | €5,000
Contact My Offer Artist English Nederlands
| Price includes picture frame and Shipping Costs |1 year Trade-in Guarantee |
Theo Langendam
'Composition(162)'

| 80x90cm | 30,5x35,4 inch | acrylic paint on MDF 4 mm | 2017 | €2,850
Contact My Offer Artist English Nederlands
| Price includes picture frame and Shipping Costs |1 year Trade-in Guarantee |
Theo Langendam
'Composition(165)'

| 80x90cm | 30,5x35,4 inch | acrylic paint on MDF 4 mm | 2017 | €2,850
Contact My Offer Artist English Nederlands
| Price includes picture frame and Shipping Costs |1 year Trade-in Guarantee |
Theo Langendam
'Composition(164)'

| 80x90cm | 30,5x35,4 inch | acrylic paint on MDF 4 mm | 2017 | € 12.850
Contact My Offer Artist English Nederlands
| Price includes picture frame and Shipping Costs |1 year Trade-in Guarantee |
Theo Langendam
'Composition(163)'

| 80x90cm | 30,5x35,4 inch | acrylic paint on MDF 4 mm | 2017 | SOLD
Contact My Offer Artist English Nederlands
| Price includes picture frame and Shipping Costs |1 year Trade-in Guarantee |
Theo Langendam
'Composition(153)'

| 80x90 cm | 30,5x35,4 inch | acrylic paint on MDF 4 mm | 2017 | €2,850
Contact My Offer Artist English Nederlands
| Price includes picture frame and Shipping Costs |1 year Trade-in Guarantee |
Theo Langendam
'Composition(158)'

| 80x90 cm | 30,5x35,4 inch | acrylic paint on MDF 4 mm | 2017 | €2,850
Contact My Offer Artist English Nederlands
| Price includes picture frame and Shipping Costs |1 year Trade-in Guarantee |
Theo Langendam
'Composition(151)'

| 80x90cm | 30,5x35,4 inch | acrylic paint on MDF 4 mm | 2016 | €2,850
Contact My Offer Artist English Nederlands
| Price includes picture frame and Shipping Costs |1 year Trade-in Guarantee |
Theo Langendam
'Composition(149)'

| 80x90 cm | 30,5x35,4 inch | acrylic paint on MDF 4 mm | 2016 | €2,850
Contact My Offer Artist English Nederlands
| Price includes picture frame and Shipping Costs |1 year Trade-in Guarantee |
Theo Langendam
'Composition(148)'

| 80x90 cm | 30,5x35,4 inch | acrylic paint on MDF 4 mm | 2016 | €2,850
Contact My Offer Artist English Nederlands
| Price includes picture frame and Shipping Costs |1 year Trade-in Guarantee |
Theo Langendam
'Composition(147)'

| 80x90 cm | 30,5x35,4 inch | acrylic paint on MDF 4 mm | 2016 | €2,850
Contact My Offer Artist English Nederlands
| Price includes picture frame and Shipping Costs |1 year Trade-in Guarantee |
Theo Langendam
'Composition(146)'

| 80x90 cm | 30,5x35,4 inch | acrylic paint on MDF 4 mm | 2016 | €2,850
Contact My Offer Artist English Nederlands
| Price includes picture frame and Shipping Costs |1 year Trade-in Guarantee |
Theo Langendam
'Composition(145)'

| 80x90 cm | 30,5x35,4 inch | acrylic paint on MDF 4 mm | 2016 | €2,850
Contact My Offer Artist English Nederlands
| Price includes picture frame and Shipping Costs |1 year Trade-in Guarantee |
Theo Langendam
'Composition(139)'

| 80x90 cm | 30,5x35,4 inch | acrylic paint on MDF 4 mm | 2016 | € 8,850
Contact My Offer Artist English Nederlands
| Price includes picture frame and Shipping Costs |1 year Trade-in Guarantee |
Theo Langendam
'Composition(138)'

| 80x90 cm | 30,5x35,4 inch | acrylic paint on MDF 4 mm | 2016 | €2,850
Contact My Offer Artist English Nederlands
| Price includes picture frame and Shipping Costs |1 year Trade-in Guarantee |
Theo Langendam
'Composition(137)'

| 80x90cm | 30,5x35,4 inch | acrylic paint on MDF 4 mm | 2016 | €2,850
Contact My Offer Artist English Nederlands
| Price includes picture frame and Shipping Costs |1 year Trade-in Guarantee |
Theo Langendam
'Composition(136)'

| 80x90cm | 30,5x35,4 inch | acrylic paint on MDF 4 mm | 2016 | €2,850
Contact My Offer Artist English Nederlands
| Price includes picture frame and Shipping Costs |1 year Trade-in Guarantee |
Theo Langendam
'Composition(135)'

| 80x90 cm | 30,5x35,4 inch | acrylic paint on MDF 4 mm | 2016 | €2,850
Contact My Offer Artist English Nederlands
| Price includes picture frame and Shipping Costs |1 year Trade-in Guarantee |
Theo Langendam
'Composition(134)'

| 80x90 cm | 30,5x35,4 inch | acrylic paint on MDF 4 mm | 2016 | €2,850
Contact My Offer Artist English Nederlands
| Price includes picture frame and Shipping Costs |1 year Trade-in Guarantee |
Theo Langendam
'Composition(133)'

| 80x90 cm | 30,5x35,4 inch | acrylic paint on MDF 4 mm | 2016 |€2,850
Contact My Offer Artist English Nederlands
| Price includes picture frame and Shipping Costs |1 year Trade-in Guarantee |
Theo Langendam
'Composition(132)'

| 80x90 cm | 30,5x35,4 inch | acrylic paint on MDF 4 mm | 2016 | €2,850
Contact My Offer Artist English Nederlands
| Price includes picture frame and Shipping Costs |1 year Trade-in Guarantee |
Theo Langendam
'modern art sales.com'

Contact My Offer Artist English Nederlands
| Price includes picture frame and Shipping Costs |1 year Trade-in Guarantee |
Theo Langendam
'Paysage(130)'

| 80x90 cm | 30,5x35,4 inch | acrylic paint on MDF 4 mm | 2016 | €2,850
Contact My Offer Artist English Nederlands
| Price includes picture frame and Shipping Costs |1 year Trade-in Guarantee |
Theo Langendam
'mer du Nord(129)'

| 80x90 cm | 30,5x35,4 inch | acrylic paint on MDF 4 mm | 2016 | €2,850
Contact My Offer Artist English Nederlands
| Price includes picture frame and Shipping Costs |1 year Trade-in Guarantee |
Theo Langendam
'Composition(124)'

| 80x90 cm | 30,5x35,4 inch | acrylic paint on MDF 4 mm | 2015 | €2,850
Contact My Offer Artist English Nederlands
| Price includes picture frame and Shipping Costs |1 year Trade-in Guarantee |
Theo Langendam
'Composition(122)'

| 80x90 cm | 30,5x35,4 inch | acrylic paint on MDF 4 mm | 2015 | €2,850
Contact My Offer Artist English Nederlands
| Price includes picture frame and Shipping Costs |1 year Trade-in Guarantee |
Theo Langendam
'Composition(121)'

| 80x90 cm | 30,5x35,4 inch | acrylic paint on MDF 4 mm | 2015 | €2,850
Contact My Offer Artist English Nederlands
| Price includes picture frame and Shipping Costs |1 year Trade-in Guarantee |
Theo Langendam
'Compsition(120)'

| 80x90 cm | 30,5x35,4 inch | acrylic paint on MDF 4 mm | 2016 | €2,850
Contact My Offer Artist English Nederlands
| Price includes picture frame and Shipping Costs |1 year Trade-in Guarantee |
Theo Langendam
'Composition(118)'

| 80x90 cm | 30,5x35,4 inch | acrylic paint on MDF 4 mm | 2014 |€2,850
Contact My Offer Artist English Nederlands
| Price includes picture frame and Shipping Costs |1 year Trade-in Guarantee |
Theo Langendam
'Composition(115)'

| 80x90cm | 30,5x35,4inch | acrylic paint on MDF 4 mm | 2016 | €2,850
Contact My Offer Artist English Nederlands
| Price includes picture frame and Shipping Costs |1 year Trade-in Guarantee |
Theo Langendam
'Composition(114)'

| 80x90 cm | 30,5x35,4 inch | acrylic paint on MDF 4 mm | 2014 |€2,850
Contact My Offer Artist English Nederlands
| Price includes picture frame and Shipping Costs |1 year Trade-in Guarantee |
Theo Langendam
'Composition(126)'

| 100x120 cm | 39,4x47,2 inch | acrylic paint on MDF 4 mm | 2015 | €6,500
Contact My Offer Artist English Nederlands
| Price includes picture frame and Shipping Costs |1 year Trade-in Guarantee |
Theo Langendam
'Composition(128)'

| 100x120 cm |39,4x47,2 inch | acrylic paint on MDF 4 mm | 2016 | €6,500
Contact My Offer Artist English Nederlands
| Price includes picture frame and Shipping Costs |1 year Trade-in Guarantee |
Theo Langendam
'La côte d'azur (78)'

| 100x110cm | 39,4x43,3inch | acrylic paint on canvas | 1999 | SOLD
Contact My Offer Artist English Nederlands
| Price includes picture frame and Shipping Costs |1 year Trade-in Guarantee |
Theo Langendam
'Still Life(80)'

| 52,5x101,5cm | 20,5x39,6 | acrylic paint on canvas | 2011 | SOLD
Contact My Offer Artist English Nederlands
| Price includes picture frame and Shipping Costs |1 year Trade-in Guarantee |
Theo Langendam
'nature morte(58)'

| 70x80cm | 27,5x31,5 inch | acrylic paint on canvas | SOLD |
Contact My Offer Artist English Nederlands
| Price includes picture frame and Shipping Costs |1 year Trade-in Guarantee |
Theo Langendam
'Still life with flowers (66)'

| 100x110cm | 39,4x43,3 inch | acrylic paint on canvas | SOLD |
Contact My Offer Artist English Nederlands
| Price includes picture frame and Shipping Costs |1 year Trade-in Guarantee |
Theo Langendam
'Composition(112)'

| 35x45 cm | 13,77x17,71 inch | watercolour | paper | 2013 |SOLD
Contact My Offer Artist English Nederlands
| Price includes picture frame and Shipping Costs |1 year Trade-in Guarantee |
Theo Langendam
'Composition(111)'

|13x14 cm| 5,11x5,51 inch |watercolour/charcoal on paper |2013|SOLD
Contact My Offer Artist English Nederlands
| Price includes picture frame and Shipping Costs |1 year Trade-in Guarantee |
Theo Langendam
'Composition(109)'

| 80x100 cm | 30,5x39,4 inch | acrylic paint on MDF 4 mm | 2015 | €3,000
Contact My Offer Artist English Nederlands
| Price includes picture frame and Shipping Costs |1 year Trade-in Guarantee |
Theo Langendam
'Composition(108)'

| 80x100 cm | 30,5x39,4 inch | acrylic paint on MDF 4 mm | 2015 | € 8,500
Contact My Offer Artist English Nederlands
| Price includes picture frame and Shipping Costs |1 year Trade-in Guarantee |
Theo Langendam
'Composition(105)'

| 80x100 cm | 30,5x39,4 inch | acrylic paint on MDF 4 mm | 2015 |€ 12.500
Contact My Offer Artist English Nederlands
| Price includes picture frame and Shipping Costs |1 year Trade-in Guarantee |
Theo Langendam
'Composition(100)'

| 80x100 cm | 31,5x39,4 inch | acrylic paint on MDF 4 mm | 2014 |
€ 13,500
Contact My Offer Artist English Nederlands
| Price includes picture frame and Shipping Costs |1 year Trade-in Guarantee |
Theo Langendam
'Composition(99)'

| 100x120 cm | 39,4x47,2 inch |acrylic paint on board | 2014 | € 16,500
Contact My Offer Artist English Nederlands
| Price includes picture frame and Shipping Costs |1 year Trade-in Guarantee |
Theo Langendam
'Composition(127)'

| 100x110cm | 39,4x43,3 inch | acrylic paint on canvas | 2014 | €5,000
Contact My Offer Artist English Nederlands
| Price includes picture frame and Shipping Costs |1 year Trade-in Guarantee |
Theo Langendam
'Composition Trees(110)'

| 80x120 cm | 31,5x47,2 inch | acrylic paint on MDF 4 mm | 2015 | € 15,500
Contact My Offer Artist English Nederlands
| Price includes picture frame and Shipping Costs |1 year Trade-in Guarantee |
Theo Langendam
'Composition(98)'

| 100x120 cm | 39,4x47,2 inch | acrylic paint on MDF 4 mm | 2014 | €6,500
Contact My Offer Artist English Nederlands
| Price includes picture frame and Shipping Costs |1 year Trade-in Guarantee |
Theo Langendam
'modern art sales.com'

Contact My Offer Artist English Nederlands
| Price includes picture frame and Shipping Costs |1 year Trade-in Guarantee |
Theo Langendam
'Composition(91)'

| 80x100cm | 31,5x39,4inch | acrylic paint on MDF 4 mm | 2014 | €3,000
Contact My Offer Artist English Nederlands
| Price includes picture frame and Shipping Costs |1 year Trade-in Guarantee |
Theo Langendam
'femmes Tibétaines(97)'

| 100x110cm | 39,4x43,3inch | acrylic paint on canvas | 2014 | €5,000
Contact My Offer Artist English Nederlands
| Price includes picture frame and Shipping Costs |1 year Trade-in Guarantee |
Theo Langendam
'Table by the window(106)'

| 100x110 cm |39,4x43,3 inch | acrylic paint on canvas | 2014 | €5,000
Contact My Offer Artist English Nederlands
| Price includes picture frame and Shipping Costs |1 year Trade-in Guarantee |
Theo Langendam
'Composition(95)'

| 80x100cm | 31,5x39,4 inch | acrylic paint on MDF 4 mm | 2014 | €3,000
Contact My Offer Artist English Nederlands
| Price includes picture frame and Shipping Costs |1 year Trade-in Guarantee |
Theo Langendam
'Vase de fleurs(86)'

| 70x80cm | 27,5x31,5inch | acrylic paint onMDF 4 mm | 2014 | €2,650
Contact My Offer Artist English Nederlands
| Price includes picture frame and Shipping Costs |1 year Trade-in Guarantee |
Theo Langendam
'Composition (32)'

| 100x110 cm | 39,4x43,3 inch |acrylic paint on canvas | 2011 | SOLD
Contact My Offer Artist English Nederlands
| Price includes picture frame and Shipping Costs |1 year Trade-in Guarantee |
Theo Langendam
'Composition(89)'

| 80x120cm | 31,5x47,2inch | acrylic paint on MDF 4 mm | 2014 | €5,500
Contact My Offer Artist English Nederlands
| Price includes picture frame and Shipping Costs |1 year Trade-in Guarantee |
Theo Langendam
'nature morte(87)'

| 70x80cm | 27,6x31,5inch | acrylic paint on MDF 4 mm | 2014 | €2,650
Contact My Offer Artist English Nederlands
| Price includes picture frame and Shipping Costs |1 year Trade-in Guarantee |
Theo Langendam
'Composition(31)'

| 100x110cm | 39,3x43,4inch | acrylic paint on canvas | 2012| SOLD
Contact My Offer Artist English Nederlands
| Price includes picture frame and Shipping Costs |1 year Trade-in Guarantee |
Theo Langendam
'Still Life(84)'

| 100x110cm | 39,4x43,3 inch | acrylic paint on canvas | 2013 | €5,000
Contact My Offer Artist English Nederlands
| Price includes picture frame and Shipping Costs |1 year Trade-in Guarantee |
Theo Langendam
'Vase de Fleurs (83)'

| 100x110cm | 39,4x43,3inch | acrylic paint on canvas | 2012 | €5,000
Contact My Offer Artist English Nederlands
| Price includes picture frame and Shipping Costs |1 year Trade-in Guarantee |
Theo Langendam
'Vase de Fleurs (76)'

| 100x110cm | 39,4x43,3inch | acrylic paint on canvas | 2013 | SOLD
Contact My Offer Artist English Nederlands
| Price includes picture frame and Shipping Costs |1 year Trade-in Guarantee |
Theo Langendam
'Au bord de la mer (70)'

| 100x110cm | 39,4x43,3 inch | acrylic paint on canvas | 2011 | SOLD
Contact My Offer Artist English Nederlands
| Price includes picture frame and Shipping Costs |1 year Trade-in Guarantee |
Theo Langendam
'Village de pêcheurs(71)'

| 100x110cm | 39,4x43,3 inch | acrylic paint on canvas | 2011 | SOLD
Contact My Offer Artist English Nederlands
| Price includes picture frame and Shipping Costs |1 year Trade-in Guarantee |
Theo Langendam
'Untitled (75)'

| 100x110cm | 39,4x43,3 inch | acrylic paint on canvas | 2011 | €5,000
Contact My Offer Artist English Nederlands
| Price includes picture frame and Shipping Costs |1 year Trade-in Guarantee |
Theo Langendam
'Bienfaisance (72)'

| 100x110cm | 39,4x43,3inch | acrylic paint on canvas | 2013 | €5,000
Contact My Offer Artist English Nederlands
| Price includes picture frame and Shipping Costs |1 year Trade-in Guarantee |
Theo Langendam
'Still Life with flowers(43)'

| 100x110cm | 39,4x43,3inch | acrylic paint on canvas | 2011 | €5,000
Contact My Offer Artist English Nederlands
| Price includes picture frame and Shipping Costs |1 year Trade-in Guarantee |
Theo Langendam
'untitled (69)'

| 100x110cm | 39,4x43,4 inch | acrylic paint on canvas | 2011 | SOLD
Contact My Offer Artist English Nederlands
| Price includes picture frame and Shipping Costs |1 year Trade-in Guarantee |
Theo Langendam
'Le champ de fleurs (35)'

| 100x110 cm | 39,4x43,3 inch | acrylic paint on canvas | 2011 | SOLD
Contact My Offer Artist English Nederlands
| Price includes picture frame and Shipping Costs |1 year Trade-in Guarantee |
Theo Langendam
'Roses (49)'

| 100x110cm | 39,4x43,3 inch | acrylic paint on canvas | 2010 | SOLD
Contact My Offer Artist English Nederlands
| Price includes picture frame and Shipping Costs |1 year Trade-in Guarantee |
Theo Langendam
'Summertime(53)'

| 80x90cm | 31,2x35,1 inch | acrylic paint on canvas | 2011 | SOLD
Contact My Offer Artist English Nederlands
| Price includes picture frame and Shipping Costs |1 year Trade-in Guarantee |
Theo Langendam
'saison d'été (62)'

| 100x110 cm | 39,3x43,4 inch | acrylic paint on canvas | 2011 |SOLD
Contact My Offer Artist English Nederlands
| Price includes picture frame and Shipping Costs |1 year Trade-in Guarantee |
Theo Langendam
'Landscape (33)'

|100x110 cm|39,4x43,3 inch| acrylic paint on canvas | 2010 |SOLD
Contact My Offer Artist English Nederlands
| Price includes picture frame and Shipping Costs |1 year Trade-in Guarantee |
Theo Langendam
' Still Life(50)'

| 50x60 cm | 19,7x23,6 inch | acrylic paint on canvas | 2011 |SOLD
Contact My Offer Artist English Nederlands
| Price includes picture frame and Shipping Costs |1 year Trade-in Guarantee |
Theo Langendam
'landscape (27)'

|100x110 cm|39,4x43,3inch| acrylic paint on canvas | 2010 | SOLD
Contact My Offer Artist English Nederlands
| Price includes picture frame and Shipping Costs |1 year Trade-in Guarantee |
Theo Langendam
'Still Life (34)'

|100x110cm|39,4x43,3inch| acrylic paint on canvas | 2010 | SOLD
Contact My Offer Artist English Nederlands
| Price includes picture frame and Shipping Costs |1 year Trade-in Guarantee |
Theo Langendam
'Still Life with flowers (30)'

| 100x110 cm | 39,4x43,3 inch | acrylic paint on canvas | 2010 |SOLD
Contact My Offer Artist English Nederlands
| Price includes picture frame and Shipping Costs |1 year Trade-in Guarantee |
Theo Langendam
'modern-art-sales.com'

Contact My Offer Artist English Nederlands
| Price includes picture frame and Shipping Costs |1 year Trade-in Guarantee |
Theo Langendam
'Still Life with flowers (29)'

| 100x110cm | 39,4x43,3 inch | acrylic paint on canvas | 2011 | SOLD
Contact My Offer Artist English Nederlands
| Price includes picture frame and Shipping Costs |1 year Trade-in Guarantee |
Theo Langendam
'Still Life (26)'

| 100x110cm | 39,4x43,3 inch | acrylic paint on canvas | 2011|SOLD
Contact My Offer Artist English Nederlands
| Price includes picture frame and Shipping Costs |1 year Trade-in Guarantee |
Theo Langendam
'Sunflowers (28)'

| 100x110 cm | 39,4x43,3 inch | acrylic paint on canvas | 2011 |SOLD
Contact My Offer Artist English Nederlands
| Price includes picture frame and Shipping Costs |1 year Trade-in Guarantee |
Theo Langendam
'Book Compositions 2011-2017'

| Book Compositions | 30x30cm | 50 pages | hard cover | € 98
Contact My Offer Artist English Nederlands
| Price includes picture frame and Shipping Costs |1 year Trade-in Guarantee |
Theo Langendam
' Still Life(45)'

| 80x100cm | 31,5x39,4 inch | acrylic paint on canvas | 2014 | €3,000 | SOLD
Contact My Offer Artist English Nederlands
| Price includes picture frame and Shipping Costs |1 year Trade-in Guarantee |